Get more out of your spaces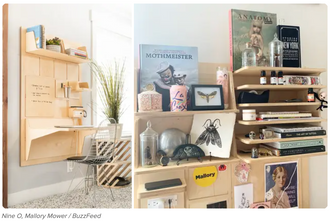 From BuzzFeed: "Upgrade your work life"
"This desk has upgraded my work from home life so drastically I can hardly remember life without it (pretty sure I've blacked out those work-from-bed days). I got the filing shelf to hold all my favorite spooky books, the dry erase panel for taking quick notes, and a headphone hook. It doesn't take up floor space (a need in my tiny apartment) and it even has charging dock available with extra outlets for USB cords and standard plugs, so you don't have to hunt around your house for extra outlet space. The adjustable shelves are simple to set up and super satisfying. Plus it's pretty...dang pretty." - Mal Mower
Back to School Essentials
Our Guarantee
We guarantee to bring more BEAUTY+FUNCTION+MEANING to your space as you hire NINE O products to do their job. We've put extra energy into making our items easy to setup, easy to customize, and super strong! We're here to help with any questions or concerns. Please reach out and we'll help you through it!

Easy set up

Easy to Customize

Super Strong