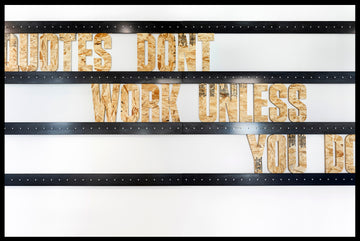 Say Something BIG!
Our TRACKS system makes any wall a statement, literally. The rails are made from 18mm wood, routed with channels to capture the top and bottom of each letter. The letters can be made from multiple materials including wood, felt, plastic, steel, and others. Setup is super easy as hardware and spacers are included with every system. 
Sometimes we do MASSIVE letters...
Other times a bit more needs to be said on a wall...
But whichever size you choose, you'll make a BIG impression in your space! 
The letters slide up under the upper rail, then drop into the bottom rail so there's no need to leave any room on either side of TRACKS to slide letters out the sides. They come straight out the front! We make it super easy to find a proper spot for TRACK in your space, and we make it super easy to change out your statement.
Reach out for more info and to get an estimate for your project.